Solar Gard Armorcoat Safety Window Films
Your home is more than just a place for possessions. Which is exactly why it's worth protecting from anything and everything that can do it harm - accidental or not. Specially designed to hold shattered glass in place, Armorcoat does more than just protect you and your family from flying shards, it also provides a deterrent barrier against burglary, earthquakes and storm damage - giving you peace of mind that you, your loved ones and your valuables are safe and protected.
Protect against:
Theft and burglary
Earthquakes and seismic activity
Severe storm damage
Bomb blasts and terrorists
Solar Gard gives you peace of mind that you, your business, your loved ones and your assets are safe and protected.
---
Clear Safety Films
Solar Gard Armorcoat Clear Safety Window Films
Optically clear Armorcoat safety films are colorless and undetectable on glass, which makes them the perfect protection retrofit. Unlike many other films, Armorcoat clear safety films films are non-reflective so it is virtually invisible on your windows. You maintain the natural appearance of your windows day or night. There is no mirror effect or detectable change to the glass surface so your windows look clear, bright and beautiful.
The resilient layers of high-tensile polyester, aggressive adhesives, ultraviolet inhibitors and scratch-resistant coatings provide exceptional impact resistant capabilities - with thicker films offering greater protection. Not only do these clear films help hold broken shards in place, the ultraviolet inhibitors help protect your home accessories and valuables against fade damage.
From 2 mil thick to 14 mil thick, this film works hard to protect your family, home and assets.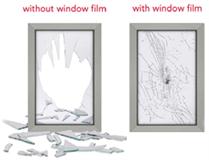 ---
Solar Safety Films
Solar Gard Armorcoat Solar Safety Films
Solar Gard Armorcoat's solar control safety films are tinted to provide additional sun related benefits, beyond ultraviolet protection. These films include a metalized layer of polyester, sputter-coated with durable, exotic metals for exceptional, solar control performance capabilities and color. In addition to glass retention, they're selected for their ability to offer privacy, balance temperatures, minimize eye-straining glare, and help preserve furnishings and merchandise. Protect your occupants and property while keeping them cool and comfortable, plus yield significant energy consumption reduction with solar safety Armorcoat.
Solar heat and ultraviolet light can cause fading of furniture, carpeting and draperies. Solar Gard films reject up to 99 percent of destructive ultraviolet light and varying amounts of solar heat, helping to preserve the value of your property and provide critical health benefits.
Choose from grey-toned Stainless Steel, Solar Bronze's warm copper finish and the more private and reflective Silver series.

Solar Gard Armorcoat Solar Bronze Series
Protect your property with the Solar Gard Armorcoat Solar Bronze series, which adds a warm copper finish to architectural windows, harmonizing with natural, earthy color schemes. These films provide high heat rejection and excellent privacy while still maintaining decent levels of natural light. Add sophistication and beauty to your property with Solar Bronze.
Solar Gard Armorcoat Silver Series
Solar Gard Armorcoat Silver series offers safety and security films constructed of alloys of aluminum and rare and precious metals such as gold, silver and bronze. This series offers optimum privacy with minimal heat transmitting into your environment. Solar Gard Aluminum series keeps occupants cool and comfortable, while yielding significant energy consumption reduction. The serious films for serious results!