A Rust Check Treatment Includes:
All Exterior Metal Trim
Door Posts
Front Cowling
Engine Compartment and Surrounding Seams
Hood Frame and Inner Panels
Front Fenders and Braces
Hood Perimeter Seam
Headlight Area and Electrical Components
Electrical Connections and Components
Trunk/Hatch Lid and Perimeter Seams
Trailer Hitch and Wiring
Bumper Supports and Brackets
Tail Light Area and Electrical Components
Rear Quarter Panels and Trunk Area
Rear Wheel Wells and Seams
Rocker Panels and Reinforcements
Door Panels
Complete Frame and Undercarriage
All Shock and Strut Towers
Wheel Well and Liners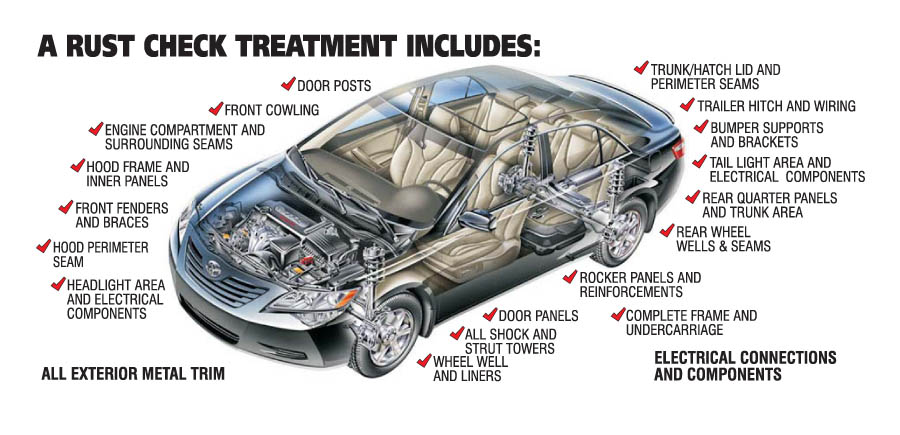 Rust Check utilizes a unique two-step application process designed specifically to provide highly effective corrosion protection by utilizing products appropriate to different parts of your vehicle. The protection your vehicle requires varies as a result of its design. One product cannot be effective in all areas. Accordingly, the Rust Check Two Product Process uses: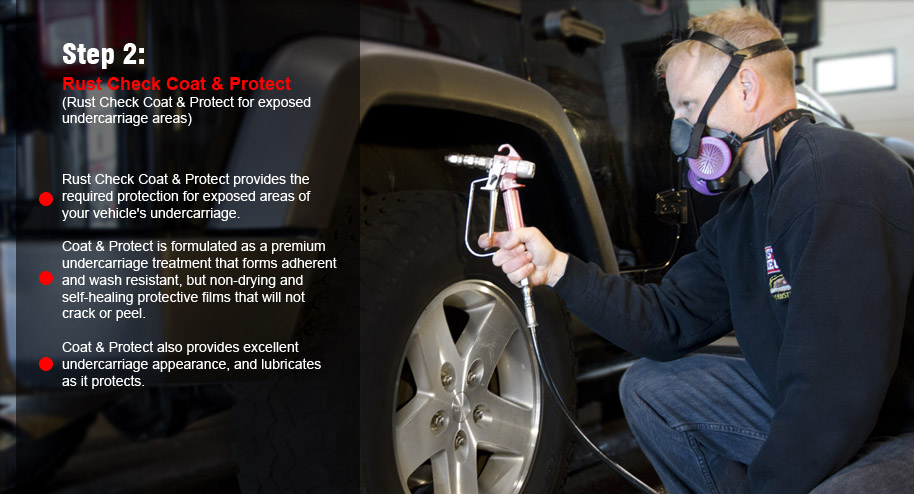 Unlike conventional oil, tar and wax-based products, which do little more than just cover up the metal in your vehicle, Rust Check creeps into all hidden rust prone areas including doors, fenders, pillars, frame members, engine compartments and cavernous undercarriage areas where the Rusties love to hide out.
Rust Check is time tested and proven for over 40 years.
Rust Check is not only for new vehicles. Even older vehicles and those treated with other inadequate rust coatings can benefit from the deep penetrating action of Rust Check.
Rust Check will not repair damage already done to older vehicles but it will inhibit the progression of rust in problem areas.
Rust Check has been accredited by Millions of satisfied customers this is the most compelling evidence that Rust Check really works.
Rust Check preserves wiring connections, electronic components and creates a less hostile environment for mechanics, which will save you money and protect your investment